Kamilla Zarbaliyeva



Instagram
Facebook
LinkedIn




Education:


2011: Master of business administration, Azerbaijan State Economic University
2008: International economic relations, Azerbaijan State Economic University
In her depictions of the human form, Kamilla transcends the boundaries of both classical figuration and modern abstraction. Oil paint, applied in heavy layers, becomes as visceral as flesh itself, each painted mark maintaining a supple, mobile life of its own. As Zarbaliyeva pushes, smears, and scrapes the pigment over her large-scale canvases, the distinctions between living, breathing bodies and their painted representations begin to collapse.
Since graduation from the art academy, studying the reconstruction of human flesh was formative in her perception of the body—its resilience, as well as its fragility. reinvigorated contemporary figurative painting by challenging the limits of the genre and raising questions about society's perception of the body and its potential. Though forward-looking, her work reveals a deep awareness of female nudity, both intellectual and sensory, of how the body has been represented over time and across cultures—from antique and Hindu sculpture to Renaissance drawing and painting, to the work of modern artists such as Henri Matisse, Willem de Kooning, and Pablo Picasso. In the striking faces, jumbled limbs, and tumbling folds of her paintings, one may perceive echoes of Titian's Venus of Urbino (c. 1532), Rubens's Christ in the Descent from the Cross (1612–14), Manet's Olympia (1863), and faces and bodies culled from magazines and tabloid newspapers. Kamilla's paintings refuse to fit smoothly into a historical arc; instead, each body comes forward, is autonomous, voluminous, and always refuses to hide or censor.
Presented her artwork on Azerbaijan Young Artists Exhibition in 2019.
Selected two times by Sotheby's challenge 2021, 19th century art interpretations.
Once selected by Christie's online challenge.
Two of her artworks were reposted on Christie's page.
Honored to present artwork to World boxing council Mauricio Sulaiman portrait of Mauricio Sulaiman and his father Jose Sulaiman.
Also took a part in Luxembourg Art prize in 2020 and got certified.
Source:
https://

www.saatchiart.com/zkamilla
Lovers 2 Painting, Oil on Canvas; Size: 23.6 W x 31.5 H x 0.8 D in; 2021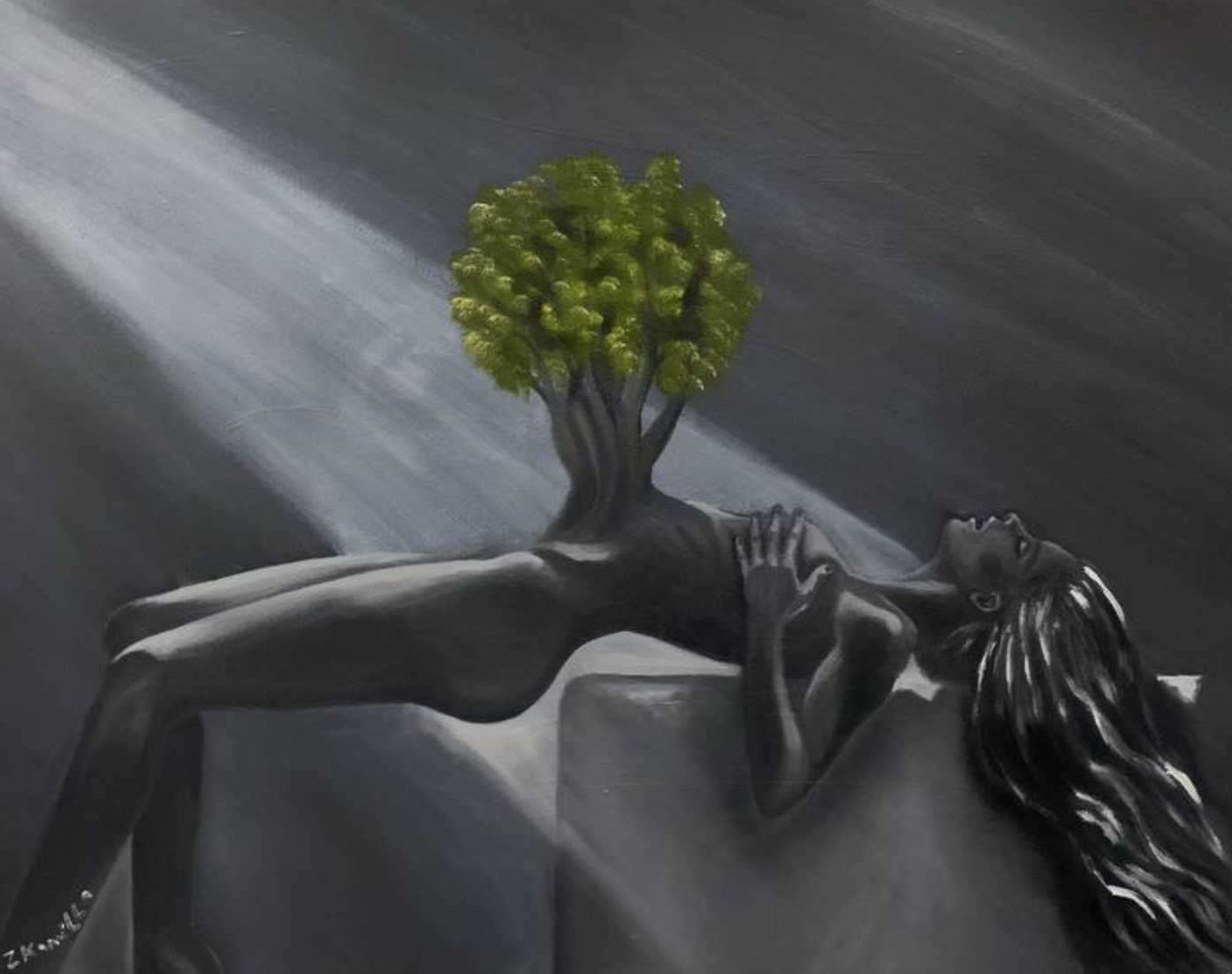 Birth Painting, Oil on Canvas; Size: 27.6 W x 21.7 H x 0.8 D in; 2021
Women with wine Painting, Oil on Canvas; 27.6 W x 19.7 H x 0.8 D in; 2021
Smokers Painting, Oil on Cardboard; Size: 19.7 W x 27.6 H x 0.6 D in; 2021
Smoking woman Oil on Canvas; Size: 11 W x 13.8 H x 0.4 D in; 2022
Self Portrait, 2020
Painting, Oil on Canvas
Size: 50 W x 60 H x 1.5 D cm