Irina Eldarova
Born in 1955 | Moscow, Azerbaijan
Contact:
iraeldarova@gmail.com
Website
Facebook
Instagram

Her work as a professional artist encompasses illustrations, graphics, photography, video art, and painting. Baku-based artist Irina Eldarova also sculpted large marble reliefs for Baku's Halglar Dostlugu metro station along with her artwork. She has worked on projects that took place in Azerbaijan, Russia, Kazakhstan, and Uzbekistan, since she grew up and started her career during the Soviet Union, and she was awarded the Kazakhstan Journalists Union's Best Media Project Award in 2007. To date, she has held several solo exhibitions in his professional life like 'Aggressive Still-Life' at Humay Gallery in London, the UK in 1998, and exhibitions in 2007 at the Baku Centre of Arts, at the Museum Centre 2010, and at her studio in 2012. She has also exhibited many group exhibitions in Gabala, Ganja, and Shaki. She is currently teaching at Western University in Baku and keeps working on her art.
Irina's work covers a range of media, whereas her paintings are most well-known in Azerbaijan. 'Women Prefer Oilman,' a hilarious look at changing gender roles and expectations in Azerbaijan, was the subject of a huge solo exhibition of her art at Yay Gallery in Icheri Sheher in 2014. Irina chose the legendary American actress Marilyn Monroe as a depiction of traditional ideas of femininity and beauty, by coloring in brilliant colors and sentimental imagery. The men in the works of art are oilmen, depicted in a retro style inspired by 1960s newspaper photography, socialist realism, and pop art, which Irina combines to imply that many female's dreams are to encounter a wealthy and powerful businessman who will provide them with the life they desire, rather than fantasizing about fairytale romances. As a creative artist, she also produced works related to the social impact of oil in Azerbaijan. Irina's artwork and two composites of photos and acrylics look at the impact of oil on Azerbaijan's everyday life and culture, emphasizing industry executives as well as ordinary individuals whose lives have been impacted by the petroleum sector.
Personal exhibitions of recent years:
2015:«Oil of Azerbaijan. Nobels. Prize 2015» at the International Industrial Exhibition CASPIAN OIL&GAS, Baku, Azerbaijan.
2016:«OIL = HOLLYWOOD = POWER", Port Baku, BAKU, AZERBAIJAN.
2017:«Man as a Brand», Museum of Contemporary Art, Baku, Azerbaijan.
2017:«Girls Prefer Oil Workers», Academy of Arts of the Russian Federation, Moscow, Russia/Zurab Tsereteli Art Gallery.
2019:The Dorchester Hotel, London.
2019:Pullman Baku – ArtNight, Baku, Azerbaijan.
Selected collective exhibitions:
2014:Participation in the International Symposium «Alanica», Vladikavkaz, North Ossetia, Russia.
2019:«Velvet Confessions», Gallery TRIUMPH, Moscow, Russia.
2020:International Contemporary Art Festival «Maiden Tower. To be a Woman-Women for Peace».
2020:«Make Yourself an Island», Museum of Azerbaijan Painting of the XX-XXI centuries/YARAT - Center for Contemporary Art, Baku Azerbaijan.
2007:Laureate of the prestigious prize of the Union of Journalists of Kazakhstan for the best «Media Project» - the publication «The State Book of Kazakhstan».
Honored Artist of Azerbaijan, Honorary Member of the Russian Academy of Arts.
Sources:
https://varyox.az/visart/irina-eldarova-2/
https://www.museumcenter.az/en/art_galleries/irina_eldarova
https://www.irinaeldarova.com/
https://www.alanicafest.art/en/artist/irina-eldarova
From "Women Prefer Oilman" solo exhibition, 2014
Yay Gallery, Baku, Azerbaijan

From " OIL = HOLLYWOOD = POWER" exhibition, 2016
Port Baku Mall, Baku, Azerbaijan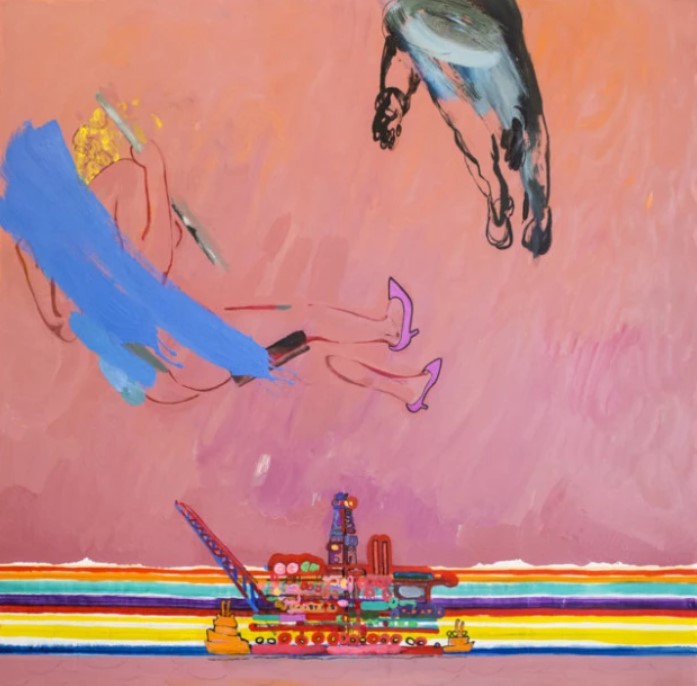 Dream Marilyn, 2013
Oil on canvas
152 x 152 cm
Love Cannot be Hated!, 2016
Oil on canvas
152 x 152 cm
Do You Believe Me?, 2016
Oil on canvas
70 x 170 cm