Rashad Babayev
Born in 1978 | Khachmaz, Azerbaijan
Website
rashadbabayevbr@gmail.com
Education:
2001: Department of Law at Baku State University
1997: International American University, Northern Cyprus
Rashad Babayev is a contemporary artist living and creating in Baku in diverse mediums – painting, installation, sculpture, and film. 1 year prior to his graduation from the Law faculty, Babayev started to practice art in 2000. He later continued pursuing art and became one of the recognized names among contemporary art practitioners in Baku. Artist held his first solo exhibition in 2004 and expanded his presence in both the local and international art scene. He later became a member of the Union of Artists of Azerbaijan in 2005. He was among the selected artists included in the "Fly to Baku" exhibition that traveled to Moscow, Rome, Berlin, Vienna, Paris, and Baku. He was also part of the group exhibition "Love Me, Love Me Not" which was featured at the 55th Venice Biennale in 2013. His works have also been shown in Russia, Turkey, Korea, Georgia, Iran, and Kazakhstan in public and private collections.
Dealing with symbolism, His paintings are highly expressive and achieves that through the intense yet deliberate use of color and strokes. The artist talks about how eastern miniatures and their colors have been an inspiration for him. This influence is seen not only in the paintings but the sculptures and installations of the artist.
"Painting is a mysterious and intimate process for me. … Colour is an absolutely essential element for me in a painting. This way I feel like I am continuing the work of a previous generation of Azerbaijani artists."
His works are dark and complex in nature referencing philosophical concepts.
Artist's involvement in filmmaking started with scriptwriting in 2012 and led him to receive Azerbaijan Cinematographers' Union's promotional diploma for the screenplay of "Memory". Rashad wrote and directed "The Passenger" – his first short film. Another short of his name "61 grams" was featured at Cairo International Film Festival and Clermont-Ferrand International Short Film Festival. In 2018, he wrote, directed, and produced two shorts – "Lost" and "Chao".
FILMOGRAPHY:
2018: Lost – (short) Director, Screenwriter
2018: 61 Grams – (short) Director, Screenwriter
2018: Chao – (short animation film) Director, Screenwriter
2013: The Passenger – (short) Director, Screenwriter
EXHIBITIONS:
2016 Group exhibition "12?" MOMA, Baku
2015 Yarat ContemporaryArt Space center opening – yarat collection exhibition
2014 "Island", Personal exhibition, Modern Art Museum, Baku, Azerbaijan
2013-2014 "Love me Love me not" contemporary art from Azerbaijan and its neighbors, Heydar Aliyev Center, Baku, Azerbaijan
55th Venice Biennale, Arsenale Nord
2013 "Home Sweet Home" Modern Art Museum, Baku Azerbaijan
2013: Azerbaijani Cultural Center in Paris, France, Paris
2012-2013 "Fly to Baku", Contemporary art exhibition, Heydar Aliyev Center, Baku, Azerbaijan
Kunsthistorisches museum – Neue Burg, Vienna, Austria;
Spazio D – MAXXI building National Museum of XXI Century arts, Rome, Italy;
Multimedia Art Museum, Moscow, Russia;
me Collectors Room, Berlin, Germany;
Hotel Salomon de Rothschild, Paris, France;
Phillips de Pury & Company, London, UK
2012: "Commonist", Group exhibition, Alternative Art Space, Baku, Azerbaijan
2012: "Merging Bridges", Group exhibition, Baku Modern Art Museum, Baku, Azerbaijan
2012: "012" Baku public art festival, Alternative Art Space Baku, Azerbaijan
2011: "Foreword" exhibition – Alternative art space, Baku, Azerbaijan
2011: Azerbaijan artists exhibition "Land of Fire", Hotel d Evreux, Paris, France
2011: "Harmony" group exhibition, Yeoksam cultural centre, Seul, Korea
2009: "Black & White" Museum Art center, Baku, Azerbaijan
2009: "Aluminium" international group art exhibition, Contemporary Art Center, Baku, Azerbaijan
2008: International Art Exhibition – "The Central House of Artists", Moscow, Russia
2007: International Art Exhibition, Union of artists – Astana, Kazakistan
2007: VI International Art Bienal, Tehran, Iran
2006: Action "Transformation of the oil in art works", Labyrinth group exhibition, "Q" gallery Baku, Azerbaijan
2006: Art and New Technologies International Festival of Contemporary Art, Museum Art Center, Baku, Azerbaijan
2005: "Man and Woman" Exhibition Hall n/a S.Bahlulzade, Baku, Azerbaijan
2004: 14-th Istanbul Art Fair, Exhibition hall n/a Lutfu Kirdar, Istanbul, Turkey
2004: "Art Caucasus 2004", International Fair of Contemporary Visual Art, Tbilisi, Georgia
2004: Young artists Group exhibition, n/a V.Samedova Art Salon, Baku, Azerbaijan
2004: Personal exhibition, "Q" Gallery, Baku, Azerbaijan
Sources:
https://emergeast.com/artists/rashad-babayev/
https://aki.az/en/upcoming-film-day-of-rashad-babayev/
"61 Grams", 201811 minutes
"Chao", 2018
6 minutes
"Juices serie 1", 2021
Acrylic on canvas board
50 x 40 cm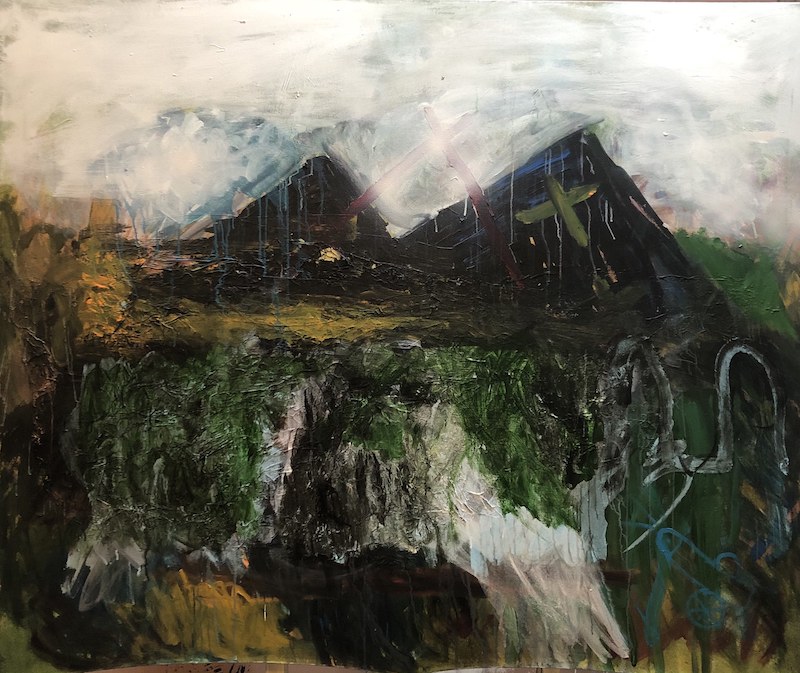 "Mountains (Pyramids)", 2020
Acrylic on canvas
140 x 170 cm