Shahnaz Aghayeva
Born in 1984 | Baku, Azerbaijan
Instagram
Education:
2010: Azerbaijan State Art Academy (Master of Arts)
2006: Azerbaijan State Art Academy
Shahnaz Aghayeva, a Baku-based painter, is a rising artistic figure in Azerbaijan for female portrayal and human character — both aesthetically and philosophically. The jury of the International Biennial Print Exhibit: 2018 ROC Taiwan chose her piece "Unrealistic Comfort Zone." Shahnaz studies gender relations and human psychology in her art. She utilizes strong visuals to describe her conceptual perspective, which raises problems about how women are behaved in the community. In her work "XX/XY" (2017), she composed a wooden puzzle with extended and slightly curved parts that can be changeably attached in a number of different ways, showing the 50/50 chance that an individual will be born a man or woman, implying that gender is equivalent in nature and is only a hierarchy due to human deception and interference.
The artworks in this series all relate to the form of a breast, an idea that appears frequently in her more recent projects, particularly "Nur" (2017), a steel dome on which a centered flashing light lies, the exceedingly glossy material making it hard to gaze straight at the work. According to Shahnaz, the artwork was influenced by the epoch-making female in science and medicine, which is reflected in the painting's powerful and sturdy physicality. Shahnaz Aghayeva employs the breast image to challenge gender and sexuality in her May 2018 individual show of pieces, 'Essence,' organized by Samira Sefi at ROOM Baku. Her control of scale and viewpoint depicts women's shifting identity and sexual liberty as society moves and adjusts to modern gender identity. Females in Shahnaz's paintings are free to show their bodies, yet they are portrayed as objects of their personal sexuality, which may be both positive and negative depending on how the artwork is interpreted. She pushes the aesthetic context of the idea of femininity as an artist.
Sources:
https://varyox.az/visart/shahnaz-aghayeva/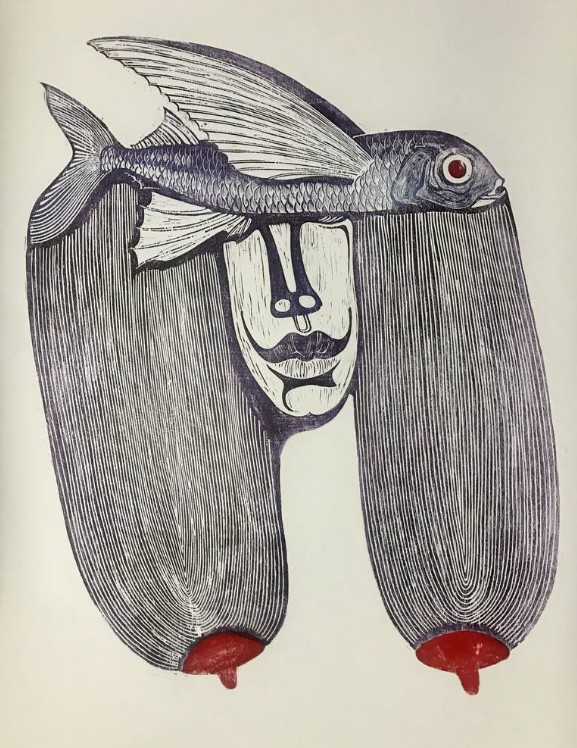 Me and my fish - Limited Edition of 4 Print, 2019
Printmaking, Engraving on Aluminium
80 W x 100 H x 1 D cm
XX/XY Installation, 2017
Installation, Wood on Wood
120 W x 200 H x 20 D cm
Surrender, 2018
Printmaking, Engraving on Aluminium
78 W x 80 H x 0.1 D cm


NINO Print, 2018
Printmaking, Wood on Paper
75 W x 75 H x 0.1 D cm
A woman's clover Sculpture, 2019
Sculpture, Ceramic on Ceramic
30 W x 30 H x 5 D cm