Zohrab Salamzade
Born in 1992 | Baku, Azerbaijan
Instagram
Facebook
email: salamzadeh.zohrab@gmail.com
Education:
2013: Faculty of Painting, Art School named after Azim Azimzade
Faculty of Theatre Arts, Azerbaijan State Academy of Arts
Zohrab has been painting since childhood. He grew up in a creative world. His mother is an architect, his father is an engineer, and his sister is a designer. As a child, like all children, he loved to draw. There was not a day that he did not paint. He doesn't think that people came to art in a particular way, saying, "I just became an artist." He prefers to be a freelance artist in his profession. He thinks he is free in his actions, there is no shortage of time or subject restrictions.
The artist can not name his style. He thinks that the style he draws cannot be attributed to illustration - the images are too large for illustration, and although they have elements, they cannot be attributed to graphics.
The artist has been participating in exhibitions since his first year. These were exhibitions held in the Union of Artists, the museum center, and separate galleries. At one point, the shows boomed: many collections were born, and Zohrab presented works to all of them. At that time, he did not have a specific style and tried to get into any exhibition. Once his style was formed, the artist was invited to various exhibitions. He also participated in Yarat's projects for several years. Together with other fellow artists, he created an organization and organized contemporary conceptual exhibitions at international festivals. The first personal exhibition "Harmony of Secrets" took place in 2019. He has previously participated in more than 45 exhibitions. It took a long time to organize the exhibition to divide the paintings according to style because there were so many works.
Sources:
https://itstep.az/blog/zohrab-salamzade-freelance-artist-and-teacher-of-step-it-academy
https://ann.az/az/zhrab-salamzade-gelecekle-bal-plan-dnyan-feth-etmek-msahibe/
https://salam-zadeh.com/about-us/


Tipsy, 2020
Oil, acrylic, canvas
80 x 60 cm
Lucky Star, 2020
Oil, acrylic, canvas
80 x 60 cm
Storm in my head, 2020
Oil, acrylic, canvas
75 x 75 cm
A special project for azergold.az, 2021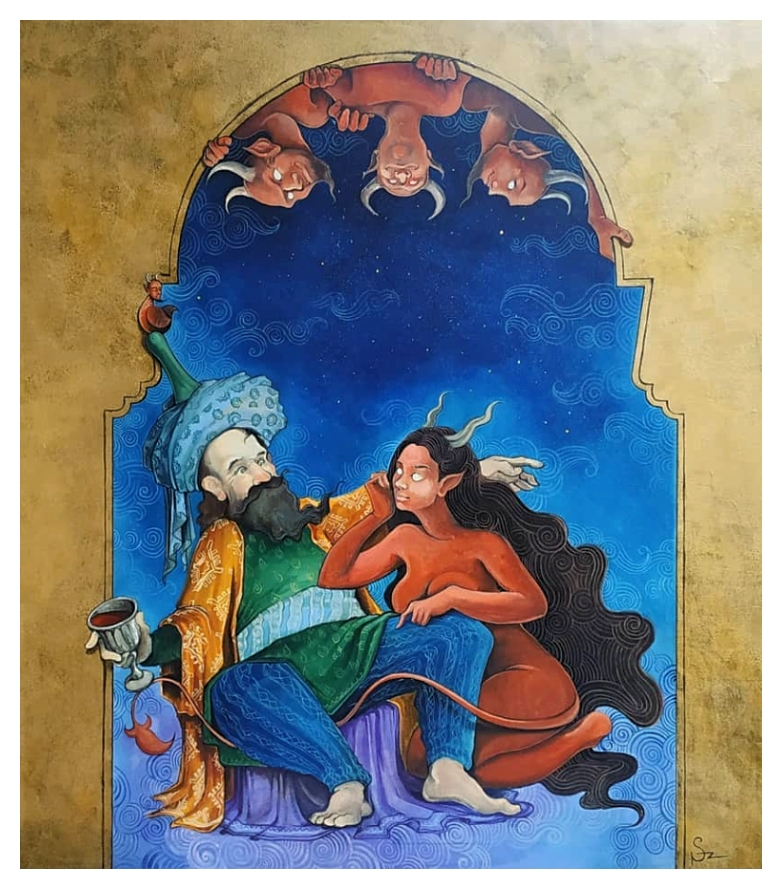 Temptress
Oil, acrylic, canvas
90 x 80 cm